In order to provide your furry family members with the best veterinary treatment possible, Bayou South Animal Hospital, serving Lake Charles, LA, features up to date diagnostics. These diagnostic methods help us diagnose your pets more quickly and efficiently so that we can get them the treatments they need. There are many conditions and diseases which are sometimes hard to pinpoint in animals. Our tests help us stay vigilant against the many health threats that can affect your pet. Keep reading to learn more about our available diagnostics.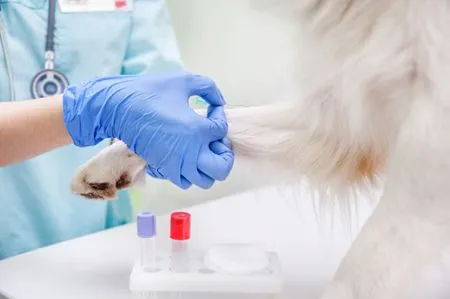 Blood Work
Blood tests are a critical part of the diagnostic process. These tests can help us to determine blood chemistry as well as a complete blood count. Comprehensive blood tests help our team detect problems before they become too serious.
Urinalysis
Your pets' urine can provide important clues to their health and well-being. Urine tests help us see physical and chemical clues to assist with diagnosing your pet. In addition to pinpointing obvious issues in the urinary or genital tract, urinalysis is also helpful when it comes to investigating other diseases such as diabetes, Cushing's disease, and others. This is not only important for diagnostic purposes, but also for preventive purposes as well.
Fecal Exams
Just like urine, your pet's feces can play an important part in diagnosis. Fecal exams are useful for diagnosing issues with the intestinal tract such as parasites, worms, coccidia, as well as other conditions. These problems are often invisible issues with pets and can become fatal if left untreated. An annual fecal exam not only helps to protect your pet from these disorders, but because these issues can be spread to humans and other animals, the exam also has far reaching health benefits to anyone in contact with your pet.
X-Rays
Sometimes, it is necessary to take a look inside an animal to see what is really going on with your pet. Digital radiography is especially helpful if your pet has been injured. These tests can help our team determine the best line of treatment for your animal.
Ultrasound
Some issues your pet may deal with will require ultrasound diagnostics. Ultrasound is useful when dealing with issues of the abdomen, chest, or heart. Ultrasounds can be more precise than x-ray technology when viewing certain internal structures of a pet's body and allow our staff to view important details which will affect your pet's health.
Microscopic Exams
When a closer look is needed, we can evaluate samples such as skin scrapings or ear swabs in order to determine what is affecting your pet's health. Examining these samples under a microscope gives our team a better perspective on your pet's health.
If you would like to learn more about services please contact us at Bayou South Animal Hospital, serving Lake Charles, LA. Our number is (337) 480-1500.