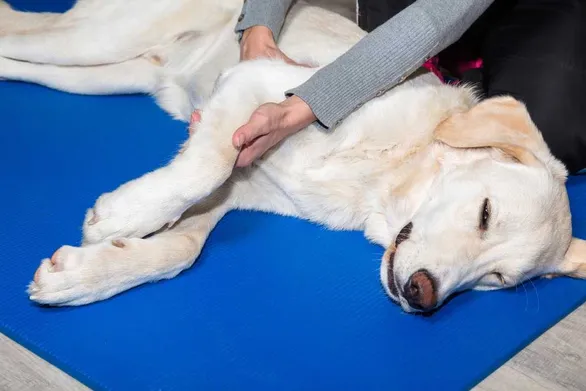 For many years, chiropractic care has continuously been used to treat conditions of the human spinal column. Recently, studies now show that this method can also benefit the health of pets. Pets need exercises to keep them active and improve their well-being. However, for exercises to be effective, your pet's spine must be flexible and in good condition. Our pet chiropractic care at Bayou South Animal Hospital helps treat animal injuries, relieve pain, and restore mobility among injured pets. Moreover, our vets in Lake Charles use spinal manipulation therapy to treat other conditions such as stress and separation anxiety.
Why Bring Your Pet for Chiropractic Care?
Just like human beings, dogs get involved in activities that might result in vertebral subluxations (Slipping of intervertebral discs out of their positions). This condition causes straining of the tissues surrounding the affected area, which in turn results in pain. To relieve pain caused by vertebral subluxations, our veterinarians perform specialized manual therapy on your pet's spine to realign the displaced discs back to their normal positions. Pain and injuries are not good for your pets and might severely affect their lifestyle.
Chiropractic care is a therapy that triggers your pet's natural ability to heal itself. We combine this type of vet care with other treatments to help pets respond well and recover faster from chronic pain. During the process, our team may recommend simple exercises for your pet, some of which can be done at home.
When Can You Bring Your Pet to a Chiropractor?
As a pet owner, you need to watch your pet's behavior for various symptoms, especially those that touch vertebral subluxations. Sometimes, your dog or cat may hide these symptoms. However, anytime you notice the following signs in your pet, consider bringing him or her for a checkup.
Sensitivity to touch
Difficulty in moving
Aggressiveness
Licking of paws
Lying with legs stretched to one side
Abnormal muscle tone
What Conditions Can Be Treated by Pet Chiropractic Care?
Apart from using chiropractic to improve your pet's fitness and boost their performance, some of the conditions we treat at our vet care center include:
Separation anxiety
Nerve problems
Skin conditions
Animal injuries
Pet neck and back pains
Musculoskeletal problems
Meet Your Pet's Chiropractor in Lake Charles, LA
Are you a pet owner in Lake Charles or the surrounding areas? Bayou South Animal Hospital offers affordable pet care for working pets, aging pets, and injured pets. We aim to see your animal get back to their normal conditions in the shortest time possible. Contact us at (337) 480-1500 to find out how we can help your pet live a pain-free life.